Bachelor, 3 years
Podiatry – Chiropody
Health
See our Brochure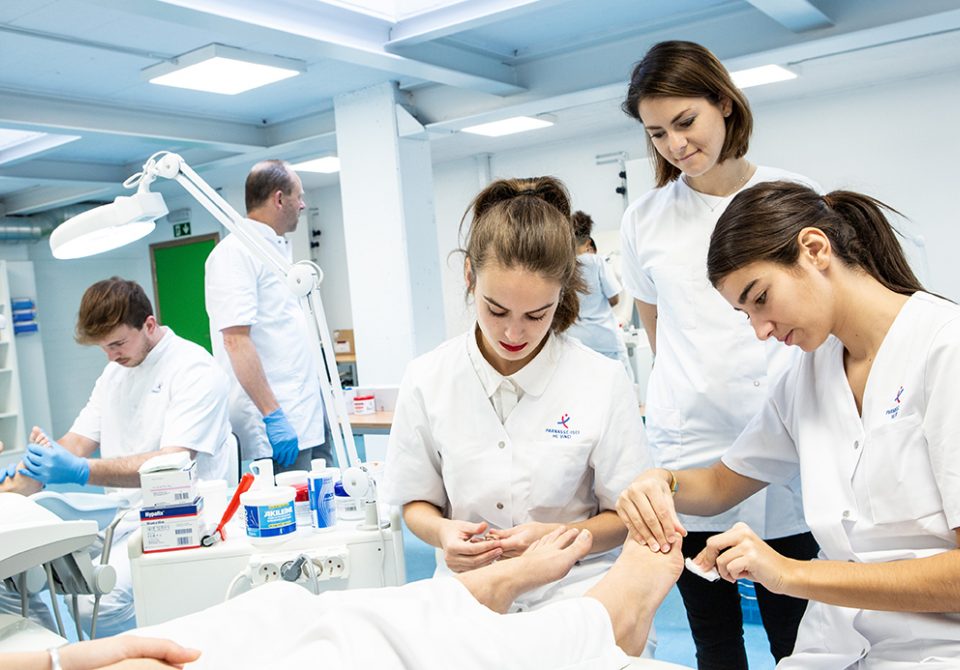 In brief
The strengths of Bachelor in Podiatry – Chiropody
Students build their professional networks via participation in professional conferences in Belgium and abroad.
The Haute Ecole has modern facilities and equipment using the latest in technology: wading tank /pool, pressure platform, treatment lab, computer-assisted insole design, scanner, digitally controlled machinery, etc.
Introductory training in these new technologies is an integral part of the programme.
HE Vinci is a member of the ENPODHE network (The European Network of Podiatry in Higher Education). HE Vinci organised its annual European conference in 2019.
Good to know
Is there a difference between a podiatrist and a pedicurist?
Yes, the Bachelor in Podiatry is a three-year study programme and is a recognised allied health care qualification. In contrast to the pedicurist, the podiatrist provides specific health care treatment, which is reimbursed by INAMI (National Institute for Health and Disability Insurance).
The podiatrist plays a key role in the treatment of lower leg pathologies and works as part of a wider multidisciplinary team of health care professionals, including physiotherapists, physiatrists, diabetologists, and others.


A career in Podiatry – Chiropody
The podiatrist-chiropodist is an allied health care specialist in the field of foot health. They treat pathologies of the foot and manufacture orthoses:
Analyses movement and balance;
Correct disorders affecting walking and gait;
Design and manufacture made-to-measure insoles and other made-to-measure medical equipment/devices;
Advise on appropriate footwear;
Foot hygiene and comfort care for patients suffering from anomalies, infection, disease or injuries to their feet;
Specific made-to-measure equipment/devices to correct toe and toenail disorders.
The podiatrist promotes the well-being of their patients, who may be young children, teenagers, the elderly or sports people.

Throughout the programme, students are helped to perfect their interpersonal skills, as well as their skills in management and collaboration, which are key skills in the profession.
The Programme of Study
Programme
3 years - 180 credits
The programme is structured around 4 themes:
The 'Professional practitioner' theme. Under this theme students learn to master all procedures and processes relating to the consultation with a podiatrist: theory of the human body and biomedical science pertaining to the work of a podiatrist, methods of diagnosis and evaluation, treatments, biomechanics (analysis of gait, plantar pressure, insole design etc.) and chiropodology (care, treatments for the skin and nails; manufacture of orthoses, etc.).
The 'Self-reflective professional' theme. Aims to develop the ability to reflect on one's own work, to critically analyse one's own practices, to compare them with theory and developments in the field;
The 'Management' theme. Equips students with a comprehensive suite of management tools for their own practice (financial, patent management, employment legislation, communication, and so on);
The 'Identity development' theme. Includes all the activities which help students to plan their career, with guidance from current practitioners.
Block 1

Study of the healthy human being and their biological, physiological and sociological (bio-physio-socio) model.

Block 2

Study of the human being impacted by a disorder and their biological, physiological and sociological (bio-physio-socio) model.

Block 3

Furthering skills through work placements situation scenario activities taking into account the bio-physio-socio model.
Optional units may be chosen to personalise the programme.