Bachelor, 3 years
Medical Biology
Health
See our Brochure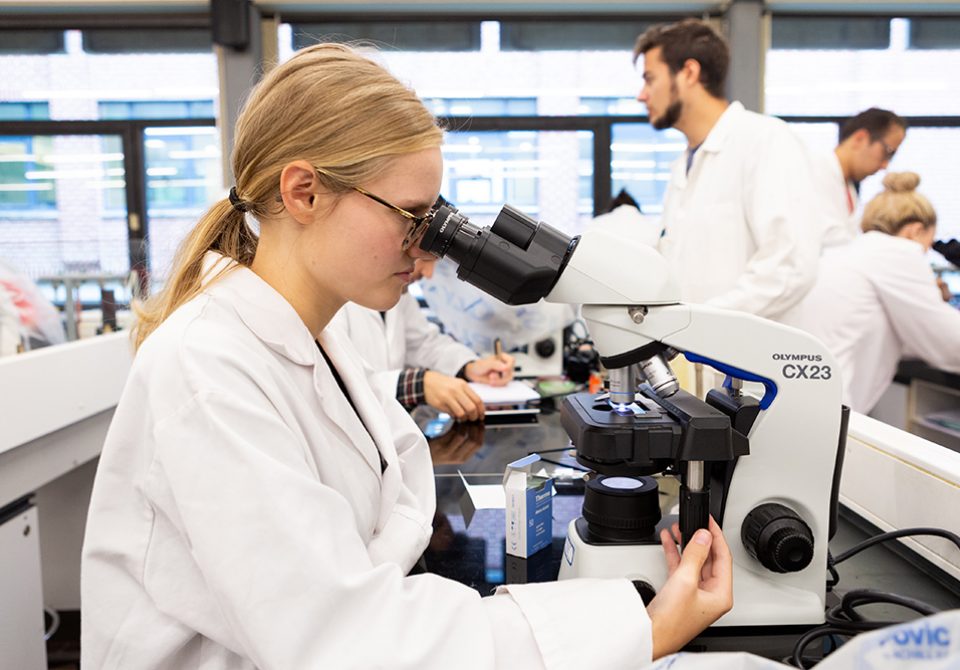 In brief
The strengths of the Bachelor in Medical Biology
Access to laboratories with modern high-performance equipment.
Close partnership working with UCLouvain: Lecturers from Louvain teach in the programme; students participate in scientific research in the laboratories at UCLouvain.
Specific teaching support for block 1 students: support from learning advisors, reinforcement courses in certain subjects, etc.
Numerous and diverse work placements in clinical biology and biomedical research.
Good to know
The first year of the Bachelor in Medical Laboratory Technologist is common with the Bachelor in Chemistry. You can therefore switch between programmes at the end of block 1.
There is currently a shortage of Medical Lab Technologists in the market. Students have no difficulty finding work after graduation.
About the job
As a medical laboratory technologist, you'll use biomedical science and the latest technology to understand the functioning of life (microbial, animal and especially human) and the causes of its deficiencies.
You will:
have responsibility for designing, performing and interpreting investigations undertaken in the field of biomedical science;
work in the lab, on all stages of sampling, maintain technological equipment and carry out analysis;
validate results and interpret them;
work in a team context, with doctors and biologists.
The Programme of Study
Programme
3 years - 180 credits
The medical biology programme combines theory courses and practicals. Compared with university programmes, you'll spend a relatively greater proportion of your time in the laboratory.
Block 1

Block 1 offers, on the one hand, the basic theoretical courses, intended to provide a solid scientific foundation (chemistry, biology, physics, mathematics, etc.). On the other, it includes practical laboratory work which very quickly allows students to see the applications of the theory.

Block 2

The theory courses focus on biomedical science topics and the functioning of the human body. The practicals are closely based on actual professional practice.

Block 3

A large proportion of block 3 is devoted to placements in the workplace and to the writing of a final-year dissertation. More specific courses in clinical biology, seminars, awareness of current issues and specialised practical work prepare students for their first steps in the profession.